We've teamed up with Peaches Pilates and Chimaera to bring you an exclusive giveaway for the ultimate self-care package valued up to $447 RRP.
What you'll win:
@gingerandme
B3 Glow Sheet Mask (Box of 5 Sheets), Power Exfoliant Mask, Skin Chill Globes - Valued at $167.95 AUD
@chimaera
Cross Back Bra and Motion Leggings in colour stone - Valued at $165.00 AUD
@peachespilates
A 1-year online subscription to the Peaches Pilates app - Valued at $114.99 AUD
How to enter:
Follow @gingerandme on Instagram
Find the image below on our feed
Tag a friend in the comments of the post
Each unique tag is an additional entry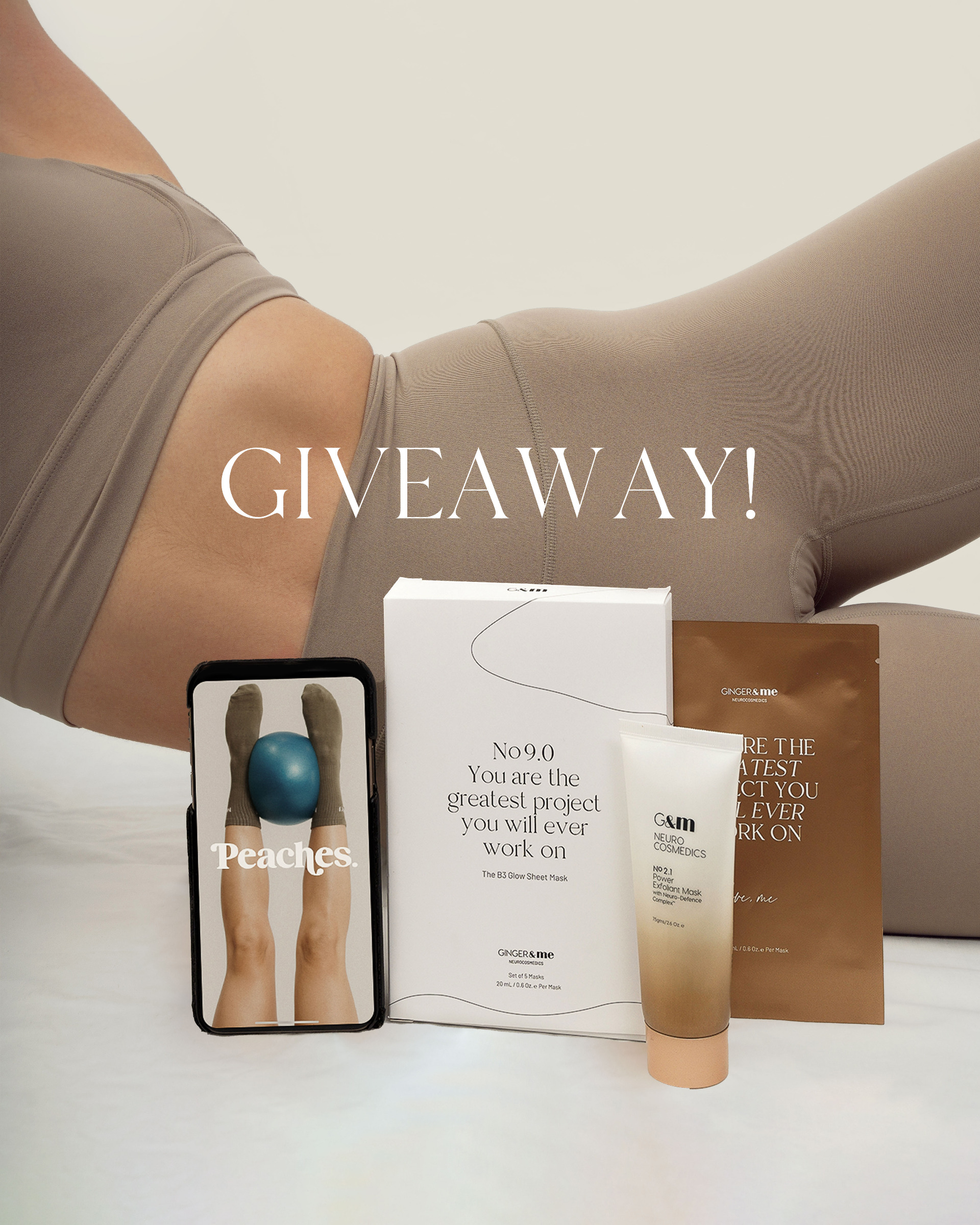 Terms and conditions:
These Terms and Conditions govern the Competition. All other information provided prior to entering the Competition, including any instructions on how to enter the Competition, form part of these Terms & Conditions. Participation in this Competition is deemed acceptance of these Terms and Conditions. Any entry not complying with these Terms & Conditions is deemed invalid.
How to enter:
To enter, eligible individuals must:
2A. Follow GINGER&ME (@gingerandme) on Instagram. For the avoidance of doubt, the entrant must be following GINGER&ME at the time of judging.
2B. Like and Comment below the competition post on GINGER&ME Instagram page and tag at least one other unique account. Comments posted elsewhere, including the Page Wall or on other unrelated Page Posts or other Social Media Platforms will be deemed invalid and not count toward an entry. Entrants can gain a bonus entry by sharing the competition post to their Instagram story and tag @gingerandme.
The prizes:
1 x GINGER&ME Prize Pack Containing:
B3 Glow Sheet Mask (Box of 5 Sheets)
Power Exfoliant Mask
Skin Chill Globes
$167.95 AUD
1 x Chimaera Prize Pack Containing:
Cross Back Bra in Stone
Motion Leggings in Stone
$165.00 AUD
1 x Peaches Pilates Prize Pack Containing:
1 Year Online Subscription to Peaches Pilates Online Program
$114.99 AUD
Who can enter:
Entry is only open to residents of Australia with a valid Instagram account. Employees (and their immediate families) of GINGER&ME and INSKIN COSMEDICS are ineligible to enter. Immediate family means any of the following: spouse, ex-spouse, de-facto spouse, child or step-child (whether natural or by adoption), parent, step-parent, grandparent, step-grandparent, uncle, aunt, niece, nephew, brother, sister, step-brother, step-sister or first cousin.
The Promoter reserves the right, at any time, to verify the validity of entries and entrants (including an entrant's identity, age and place of residence) and to disqualify any entrant who submits an entry that is not in accordance with these Terms & Conditions, who tampers with the entry process or who participates in competitions as a means of income or as part of any form of organised/strategic competition group. Errors and omissions will be accepted at the Promoter's discretion. Failure by the Promoter to enforce any of its rights at any stage does not constitute a waiver of those rights. Incomplete or indecipherable entries will be deemed invalid.
Multiple entries are accepted under entry terms. Repeat posting and commenting will increase the chance of winning or advantage.
The Entrant acknowledges and agrees that their Entry will not be obscene, defamatory, libellous, threatening, harassing, hateful, racially or ethnically offensive, or encouraging of conduct that would be considered a criminal offence, gives rise to civil liability, violates any law or the GINGER&ME Social Media House Rules. The Entrant confirms and warrants that they have full power and authority to enter into this agreement and hereby indemnifies the Promoter from and against any and all costs and damages incurred as a result of any breach of these Terms & Conditions.
How to win:
The Competition commences at 7PM AEDT on Tuesday 25th July 2023 and closes at 11:59PM AEDT on Tuesday 1st August 2023 (the "Competition Period"). Final Entries must be uploaded before 11:59PM AEDT on Tuesday 1st August 2023.
At the conclusion of the Competition Period, entries will be selected as a winner(s) of the Competition across the seven (7) days of competition, depending on the number of prizes available as outlined in the table under Point 2B, by a panel appointed by the Promoter at the Promoter's sole discretion. The winners will be drawn across all categories/prizes by skill and chance will play no part.
The Winner(s) shall be determined and announced via the GINGER&ME Instagram page on Friday 4th August 2023 at 7 PM AEDT. The panel's decision is final and binding upon all entrants and no correspondence will be entered into. Entrants who are not winner(s) will not receive any notification. The Winner(s) shall be notified via Instagram private message and/or post, followed by a confirmation email once contact is made.
The prize:
The Winner(s) will receive the Prize as set out at Clause 2.
Total prize retail value is in Australian Dollars (AUD) and as set out at Clause 2.
The Prize must be taken as stated and is not transferable to another person (unless agreed to by the Promoter) or exchangeable for other goods and services, including prizes awarded to winner(s) on different days, and cannot be redeemed for cash.
If a Winner(s) is not contactable or the Prize is not claimed by the Winner(s) prior to 31st August 2023, the Prize will be forfeited. The Promoter reserves the right to reselect an alternative Winner(s) as necessary to distribute the Prize subject to any directions given by the relevant authority.
If the Prize is unavailable for any reason, the Promoter, in its discretion, reserves the right to substitute the Prize with a gift to equal value and/or specification, subject to any written directions from a regulatory authority.
Release for promotional activities:
The Winner(s) agrees to participate in any promotional activities associated with the Prize such as re-posting any entered material, photo opportunities or interviews as might be required by the Promoter. The Winner(s) agree to the Promoter using the Winner's likeness and image for any purpose related to the Prize and Competition.
As a condition of accepting the prize, the Winner(s) (and their companion) must sign any legal documentation as and in the form required by the Promoter in their absolute discretion, including but not limited to a legal release and indemnity form.
Exclusion of Liability:
If this Competition is interfered with in any way or is not capable of being conducted as reasonably anticipated due to any reason beyond the reasonable control of the Promoter, the Promoter reserves the right, in its sole discretion, to the fullest extent permitted by law (a) to disqualify any entrant; or (b) subject to any written directions from a regulatory authority, to modify, suspend, terminate or cancel the promotion, as appropriate.
Any cost associated with accessing Instagram and mobile applications is the Entrant's responsibility and is dependent on the Internet service provider used. The use of any automated software or any other mechanical or electronic means that allows an entrant to automatically enter repeatedly is prohibited and will render all entries submitted by that entrant invalid.
Except for any liability that cannot be excluded by law, the Promoter (including its officers, employees and agents) excludes all liability (including negligence), for any personal injury; or any loss or damage (including loss of opportunity); whether direct, indirect, special or consequential, arising in any way out of the competition, including, but not limited to, where arising out of the following: (a) any technical difficulties or equipment malfunction (whether or not under the Promoter's control); (b) any theft, unauthorised access or third party interference; (c) any claim or offer that is late, lost, altered, damaged or misdirected (whether or not after their receipt by the Promoter) due to any reason beyond the reasonable control of the Promoter; (d) any variation in gift value to that stated in these Terms & Conditions; (e) any tax liability incurred by a entrant; or (f) use of a Prize.
The Promoter and its associated agencies shall not be liable in any way if the performance of obligations hereunder is delayed or becomes impossible by reason of any Act of God, war, fire, earthquake, strike, sickness, accident, civil commotion or any other cause.
Privacy Policy and Consent:
The Promoter does not collect any personal information in this competition. If your entry is selected as a winning entry, you will be contacted by GINGER&ME on Instagram and asked to contact us for the purpose of distributing your prize to you. By entering you are agreeing to the policies and rules of Instagram which are independent to and out of the control of the Promoter, and as such, the Promoter will not assume any liability or responsibility regarding the entrant and Instagram policies or procedures. The competition is entered into at the full disclosure and liability of the entrant.
Promoters Details:
The Promoter is INSKIN COSMEDICS, on behalf of GINGER&ME (ABN 22 086 765 040) located at Unit 1, 10 Hill Road, Sydney Olympic Park NSW 2127 Australia.
These Terms & Conditions shall be governed by the law of NSW, Australia.
26. This competition is in no way affiliated to or endorsed by Instagram.